Friday, July 23, 2010
I was asked a question some weeks ago by a former Assembly of God protestant friend who is now attending a Sovereign Grace Calvinistic Charismatic group. He seemed interested in Orthodoxy, but the main thing he wanted to know was
"Does the Orthodox Church believe in imputed righteousness or infused Righteousness?"
As a former protestant myself I immediately knew what my friend was trying to get at. You see in some circles of protestantism, especially the Calvinistic and Reformed kind, the issue of imputed righteousness tends to be associated with the Gospel itself. And if you answer this question wrong then whatever else you have to say will go in one ear and out the other. So I simply told him to study the history of the issue and to read this book by the Anglican Alister Mcgrath:
Iustitia Dei: A History of the Christian Doctrine of Justification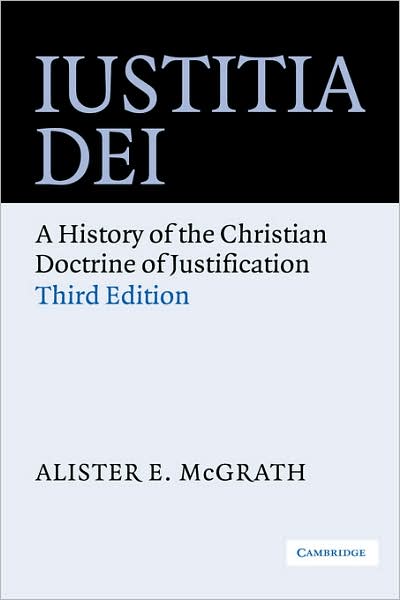 If I am asked this question again in the future then I will intentionally change the focus to one of
Regeneration, Justification, and Sanctification
.
Why?
Because if the Calvinistic or Reformed protestant thinks about some of the inconsistencies of what surrounds their view, then maybe they will be less dogmatic as well as more willing to listen to what I have to say.
You see, Calvinists are trapped within a deterministic scheme. In following the Augustinian western tradition, they believe that free will was lost when Adam and Eve bit the fruit. And from that moment on they understand freedom in a more Plotinian, Manichean, and late Augustinian manor. This is why they often say
"fallen people have a will…..it's just only a will to choose according to their fallen natures!"
In other words, they confuse person and nature.
Now what does this have to do with the topic of
"Imputed Righteousness vs Infused Righteousness"?
Well in order to get to their system of "Imputation", first we must start here. You see, they really do believe in the idea of Infused Righteousness, a number of them just don't know it.
The non-Anglican Reformed depart from the idea of Baptismal Regeneration, and so when they talk about the
"Regeneration that precedes faith"
, they are talking about something different than Augustine. When Saint Augustine talks about the grace that precedes faith he is talking about particular prevenient grace. This grace leads someone to the Regeneration found in Water Baptism.
The Reformed took what Augustin had to say about prevenient grace as the actual Regeneration itself. Also, Augustine saw Regeneration and Justification as pretty much the samething. The Reformed on the other hand make a sharp distinction between the two, just like they do with Justification and Sanctification.
You see, in order for the Reformed to believe in a doctrine of Imputed Righteousness, first they must believe in a doctrine of Infused Righteousness or Regeneration.
If a person must be Regenerated before they can even believe then they must believe in Infused Righteousness. If this is the case for the Reformed then what right do they have to call Infused Righteousness heretical?
The Calvinistic and Reformed system looks something like this:
Regeneration (grace understood as Infused Righteousness)
In the Calvinistic system a person needs a new heart and a transformed mind in order to have faith alone in Justification.
Justification (grace understood as Imputed Righteousness or a change of perception or favor that God has on the sinner)
In the Calvinistic system a person is filthy, wicked, and dirty on the inside but is covered by the Righteousness of Christ on the outside. A Calvinist is not allowed to talk about works or infused righteousness when talking about the category of Justification.
Sanctification (grace understood as Infused Righteousness)
In the Calvinistic system a person can only talk about works or the fruits of faith in the category of Sanctification.
As you can see, there is inconsistency in how they understand the word grace. This is what I will focus on the next time I am asked the question
"Does the Orthodox Church believe in imputed righteousness or infused Righteousness?"
I will also talk to them about the issue of created vs uncreated grace as well.
ICXC NIKA
FUNDAMENTAL LINKS
POPULAR POSTS
Eventhough the Council of Carthage was a local North African Council it became Universal when the decrees were added to the 6th ecumenical ...

From Scripture: Romans 8:29 For those God foreknew he also predestined to be conformed to the likeness of his Son, that he might be the ...

As seen from Ancient Christian Defense : Calvinists tend to use Eph 2:8 to prove that faith is the gift of God. I believe Faith to be a g...

Since the rise of Protestantism, there has been a debate on the veneration of the Virgin Mary. Orthodox Christians argue that since Mary is ...

There were two views, one would later be declared heretical while the other Orthodox. Taken from the book " "Church History, Vol...

TOPICS

THUS SAITH THE LORD

MONTHLY ARCHIVE

About Me